Slimline cards are long narrow cards that fit into a #10 Business sized envelope.
Business Sized Envelopes are 4-1/8 x 9-1/2 so anything smaller than that fits into them.
I often use 4 x 9-1/4 if I want the extra real estate on the card front.
Below are cutting instructions for the most popular size of SLIMLINE CARDS, however if you are using dies, check with the company's instructions for sizing.  There are many variations out there.
In the carding industry one of the the popular sizes for SLIMLINE CARDS is 3-5/8 x 8- 5/8  but most of us have rounded that down to 3-1/2″ x 8-1/2″making the layered cutting easier to calculate.
Cut from of a 8-1/2 x 11 piece of card stock in landscape – for the standard 3-1/2 x 8-1/2 card:
Cutting the SLIMLINE CARD BASE in the Landscape Orientation:
Cut the card stock to 7 x 8-1/2
With the 7″ side at the top, score down the center at 3-1/2″  to fold in half and resulting in your finished card base.
the resulting scrap (gray area) from this cut is two thin pieces the widest being 2-1/2 inches
Cutting the SLIMLINE CARD BASE in the Portrait orientation:
You are left with a strip 4 x 8-1/2 which could be a mat for another slimline card, or a A2 sized card
Matting Cuts for SLIMLINE CARDS:
To cut the matting and card fronts I like to layer down 1/4 inch at a time.
For a much thinner mat (which I really like), you can layer down 1/8 Inch at a time, but these are much harder to adhere straight.
One layer I really like is to cut the 1/4″ layer first which leaves a very nice wide outside frame.  Next, cut the 1/8″ small mat for a thinner contrast
Then you can use your card pieces either in Portrait or Landscape orientation
Slimline CARD SAMPLES:
Below are some samples I have made with links to the post for the PDF Downloads and/or videos.
Also check out:
MY SLIMLINE PINTEREST PAGE – – The Best 250 Slimline Card Images in 2020 (in my opinion)  – Follow it HERE
MY SLIMLINE YOUTUBE VIDEOS – HERE – subscribe to receive notification of new ones
Search SLIMLINE Cards here on my BLOG – for all the Slimline Cards I have Made
   Slimline with Graciellie designs – details HERE 
Slimline with Distress Oxide Stripes – VIDEO HERE
Multi layer stamping with die cut border – Video HERE
Slimline with Pinkfresh Studio Dies – PDF Tutorial HERE
Simon Says Stamps Dies and Stencil Christmas card – instructions HERE
Gina K Colossal Cone Flower – Instructions HERE
Simon Says Stamp Floral Garden – Details HERE
I'll continue to add links here as I created the cards.
Where to get Slimline Dies
Many of our favorite stamp companies have SLIMLINE DIES.   Instead of your basic cut borders, we now have many decorative options such as stitched edge, scalloped edge etc. and many with peek a boo windows too which are fun to create with
Below I have listed links to companies I like and use and many of these products are also available at
Simon Says Stamp
,
Ellen Hutson
and
Scrapbook.com
who carry a variety of company products as well as their own.
Simon Says Stamp Just released these two lovely bundles as part of their Stamptember celebration.  Marquee and Scallop.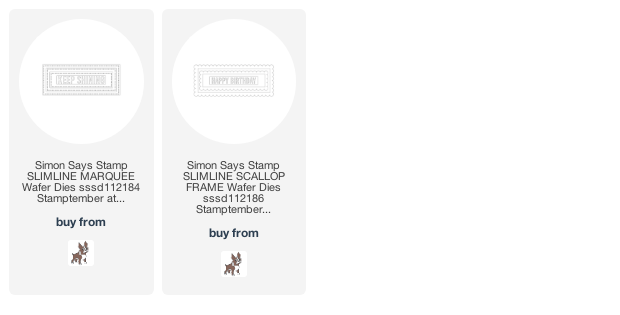 Simon Says Stamp also carries all the other stamp companies products including their Slimline Dies, so you can order from all the companies through Simon, and have it ship in one box (and one shipping fee).
Picket Fence Studios has gone deep into Slimline cards and Dies and has an extensive
Slimline Die Cutting System
that they add to regularly.
They also have a new addition coming out in April with scalloped edges and an Inlaid option, as well as more theme circles.
Picket Fence also has a HUGE line of
Slimline Stencils
and they also to this line on a regular basis too.
Here are the
Whimsy Line
of Slimline Dies.  They currently have 10 different styles.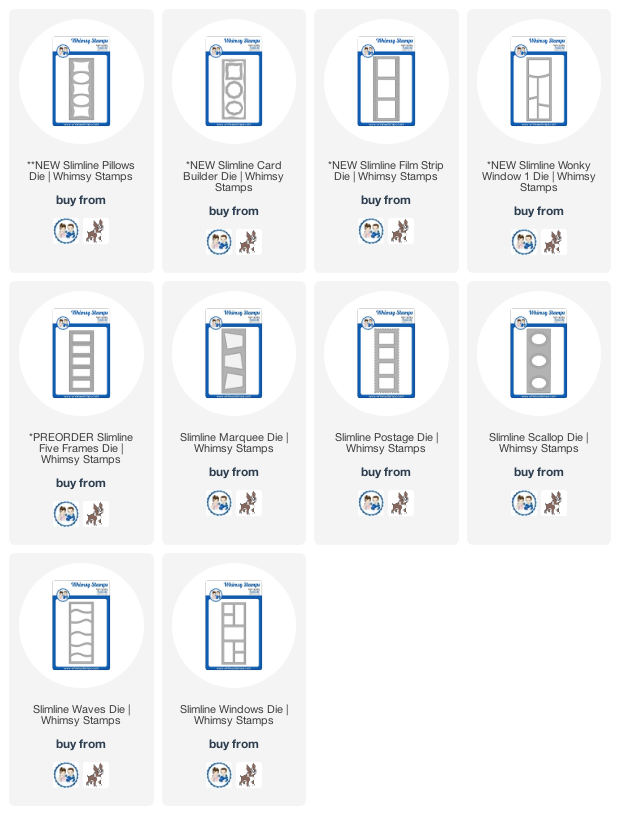 Here is the Trinity Line.  They have a great selection and just added new ones.  They also have stencils and envelopes and an envelope builder die to make slimline envelopes.

Here is the Pinkfresh Line of dies with lots of great angles, peek a boos and borders.  They also seem to be adding new items on a regular basis as well.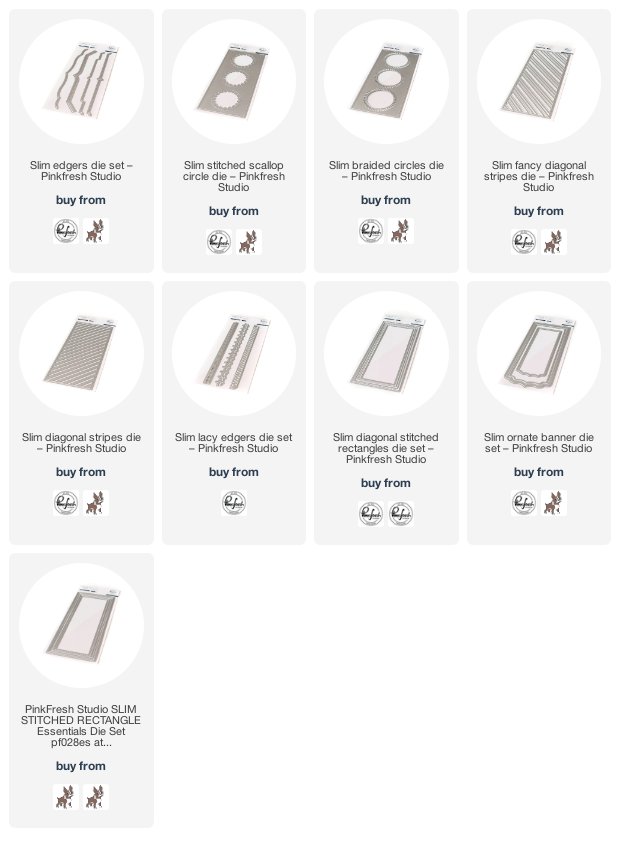 Mama Elephant has three sets of Slimline Die Sets to date and you can purchase them through Simon Says Stamp and Ellen Hutson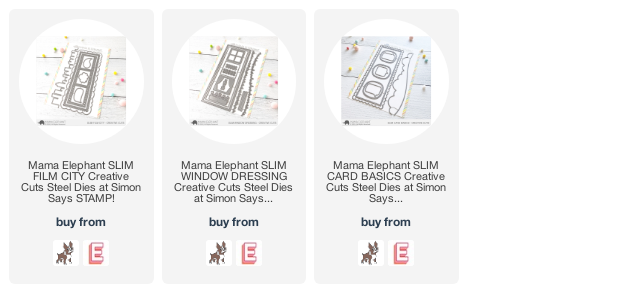 Waffle Flower has this great Nesting Slim Layers Dies Set – perfect for lots of mats.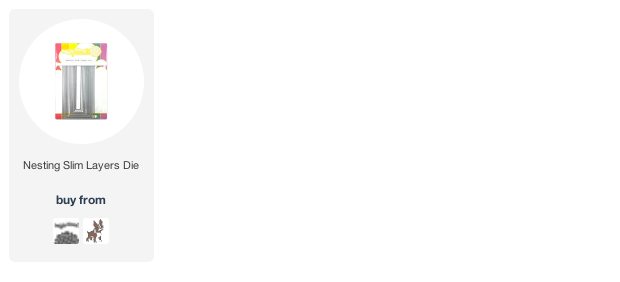 Studio Katia currently has two sets, Dotted Slimline Set 1  (oval) and Dotted Slimline Set 2 (diagonal)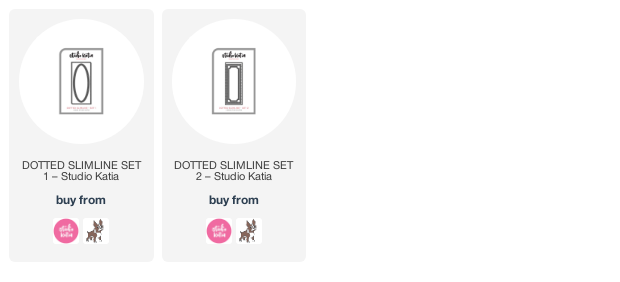 Storing your Slimline Cards:
Honey Bee Stamps has come out with Crystal Clear Cello Bags for storing your Slimline Cards
100 per pack @ $6.95 (USD) – Order Slimline Cello Bags here:
A few of the above companies have dies to create the envelopes for Slimline cards or,
Simon Says Stamp has come out with a great selection in 11 fabulous colors – check them out HERE.
I'll update this list regularly with new products as they are released
Have fun making your Slimline Cards.