Hi stamping friends and welcome back.  Today I'm sharing a new video – Painting with Nuvo Aqua Flow Pens.
If you are reading this in an e-mail, you may need to CLICK HERE to visit my blog to watch the video.
I'm up on the Scrap N' Stamp blog today with a pretty water colored card created with the Concord & 9th Songbird stamp set and colored with the Nuvo Aqua Flow Pens.  As you can tell with my recent posts, I'm quite infatuated with these pens, so I thought I would record a video on all the different ways I like to use them.
I just received this stamp set so I couldn't wait to color it.  Check it out, it has so many add on stamp sets to cover a variety of seasons, I know I'll be using this over and over again.
Lovely flowers and leaves for spring, berries, pinecone and fir branches for Christmas, and I decided the other larger leaves are for fall.  I love all the great sentiments that come in the set too.
We have little birdies like these flying all around our back yard so I decided to paint them in the gray and yellow, but really, this bird could be any color, red for Christmas, bright yellow, brown and yellow – they all work.
In the Video:
I show you how I use the markers:  direct to paper, blended out with a water brush, diluted on an acrylic block, and blended together direct from the pen.   I splatter with them too.  So versatile, they should be a staple in every craft room.
Here's my video, and I'll apologize right up front, it's long, because I go into detail on how I layered the color on the bird, and how I used my FLOATING INK TECHNIQUE on the second from last leaf.  CLICK HERE to watch the video on my blog – or watch it in HG over on my YOUTUBE channel.
Click the button below to download the PDF for today's card which lists the supplies used, cutting instructions and step by step instructions on how to make today's card.
Thanks so much for visiting me today and I hope you enjoyed the project.  I've listed the products I used below.  Clicking on the image will take you directly to the product.  Where available I use compensated affiliate links which means if you make a purchase through my link, I receive a small commission at no extra cost to you.  Thank you so very much for your support, it helps to keep my blog and YouTube channel running and I truly appreciate it.
P.S.  if you do place an order through my affiliate links, please E-Mail Me with the date and amount along with your name and address as I would love to send you a thank you card.
for the New Video – Painting with Nuvo Aqua Flow Pens – Concord & 9th Songbird card:
If you live in Canada – ordering through Scrap N' Stamp will save you the USA exchange on your visa card and Raya offers FREE SHIPPING on orders over $100. and flat rate of $9.50 on orders under $100.  I order from them a lot and my orders are always well packed and speedy, so I highly recommend them. (really nice people too) – Scrap N' Stamp is located in Vancouver B.C.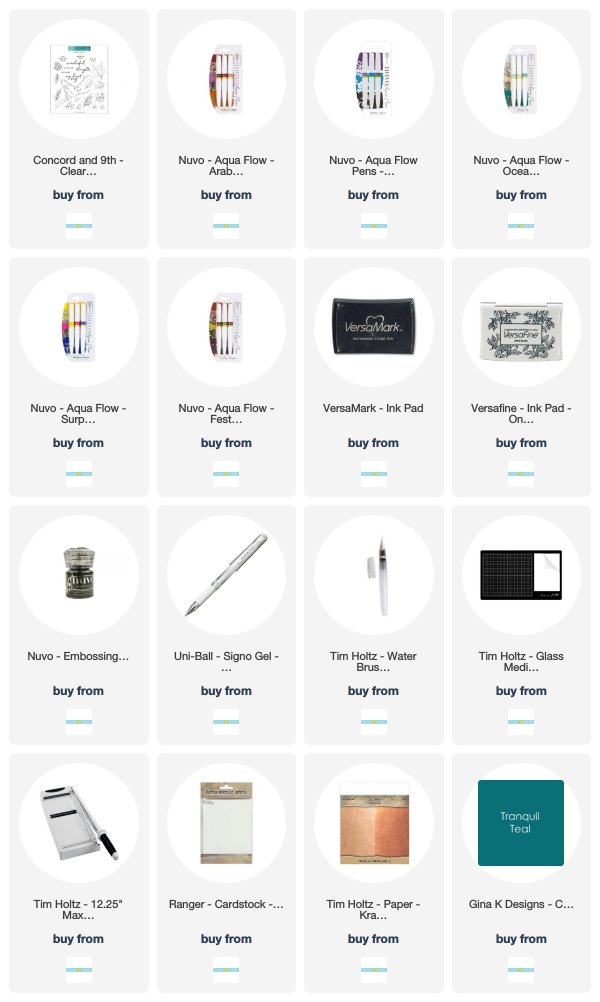 For USA and other Shoppers, I recommend Simon Says Stamp, Ellen Hutson, Scrapbook.com and Tonic STudios (shops in the UK and USA) – here are their links for today's products.