Hi Crafty Friends and Happy New Year.  To kick the new year off right, we have Spellbinders Kaleidoscope Hearts from the Large Die of the Month Club today.  And it's also a new SLIMLINE CARD.
I know I say this every month, I just can't believe that this kit is more fabulous than last month, but yes, they have done it again.  Say a big hello to KALEIDOSCOPE HEARTS
What I love about this Spellbinders Kaleidoscope Hearts kit?
The slimline card background die of beautiful hearts
Also, it has three heart dies that layer and create a fabulous Kaleidoscope heart
And finally, it has fabulous embellishment dies too for the florals and leaves
I decided on non-traditional valentine's colors for my cards this month.  Lots of white, gold and pool play blue.  I wanted to keep the cards really clean and simple so that the Kaleidoscope images really shone through.
How to create the Spellbinders Kaleidoscope Card.
Cut a white card base 9 x 8 and score at 4 to create a top folding 4 x 9 card base.
Next, die cut the background panel from a white piece 3-1/2 x 8-3/4, and place another panel the same size behind it.
Cut a gold mat 3-5/8 x 8-5/8, glue them all together and attach to the card base.
To create the Kaleidoscope hearts:  Die cut each heart die 3 times in each color, white, gold and blue.   Glue them together and insert them into the holes cut in the background
Add the Embellishments:  Die cut the leaves and flowers and glue them around each heart.  I used Pool Play, Lemon Grass, pineapple Smoothie and pink scraps for this step
For the Sentiment:  Hot Glimmer foil a sentiment from the January 2021 Glimmer of the Month kit on Pool Play, trim it and attach over the center heart with Foam Squares
Finally, embellish the center of each floral with a dot of White Nuvo Drops or small pearls
There are a variety of ways you can receive this kit each month.
Sign up for the individual kit, or have a look at some of the combo kits, as they are discounted, so a better value and only one shipping fee.  I get the Small Die of the Month, Large Die of the Month and the Glimmer of the month.  I love the discount and that they often coordinate together too.
Here are some of the ways you can order your kit: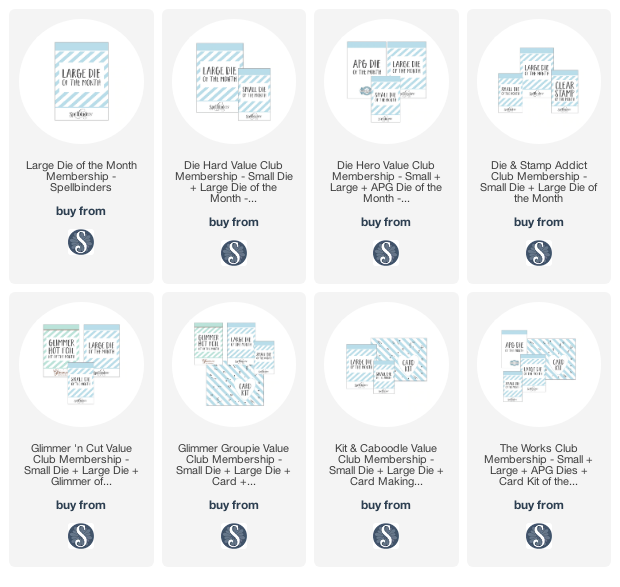 Visit my PDF Gallery for 350+ more card ideas
Want more info about SLIMLINE CARDS? <<<<<<CLICK – I have a Info page

used for the Spellbinders Kaleidoscope Hearts Card:
Want to find the products I used?  I have them listed below.  Compensated affiliate links used at no cost to you.
Thank you for your support, it helps to cover my blogging and video expenses.
 – LOTS of great sales and New Releases going on this week – Check them out here