Hi cardmaking friends.  Today I have Spellbinders Truly Yours Collection to share.  This is a cardmaking/die cutting bundle that came out recently and I have really enjoyed creating with the elements from this release.
This Truly Yours Collection release contains some new Essential Glimmer plates including the Label Glimmer and the Classic Label, both of which I have used in my cards today.  Once foiled, they create beautiful frames for the other die cut elements on the cards.
Truly Yours Collection – Cameo
Finished size of this card is 4-1/4 inches square top folding
Die cut all the elements in Gold, Dahlia, Pink Sand, and black
Glimmer Hot Foil the Classic Label in Polished Brass Foil onto black cardstock and then cut out
Using the Bearly Art Glue, add the wreath in gold and the flowers.
Cut the white and pink mats and attach them to the card base
Add the art piece using foam squares to pop them up
Glimmer Hot foil the sentiment onto white.  The sentiment is from the June, Glimmer Hot Foil of the Month kit.
Truly Yours Collection Square Dress Card
First up, use Polished Brass foil to foil the second largest of the Essentials Glimmer Classic Label onto black card stock and cut out.
The layers for this card are the same as the first, however the finished size is 5 x 5 inches square
Next, die cut the dress from black and white patterned paper and the bow and flowers from Dahlia and Pink Sand Cardstock.
Cut the leaves and hanger from Mirror Gold cardstock.
Truly Yours Collection – Heart Swans
For the final card, glimmer foil the Essentials Glimmer Label panel onto black with Polished Brass Foil and cut out
Layer the mat and the card base to a finished size of 4-1/2 x 5-1/2 inches
Die cut the swans and flowers.  NOTE – Die cut two black wings to act as shadows behind the white ones.
Layer all the pieces onto the card front and attach.
Gold foil the sentiment from Essential Glimmer Sentiments.
These dies and glimmer plates are creatively inspiring
Fabulous Product Release:
In closing, a fabulous set of Die Cutting and Glimmer Foiling products that were fun and creative to work with.  I'll play with these again using different color combinations .
used for the Spellbinders Truly yours Collection Cards:
Want to find the products I used?  I have them listed below.  Compensated affiliate links used at no cost to you.
Thank you for your support, it helps to cover my blogging and video expenses.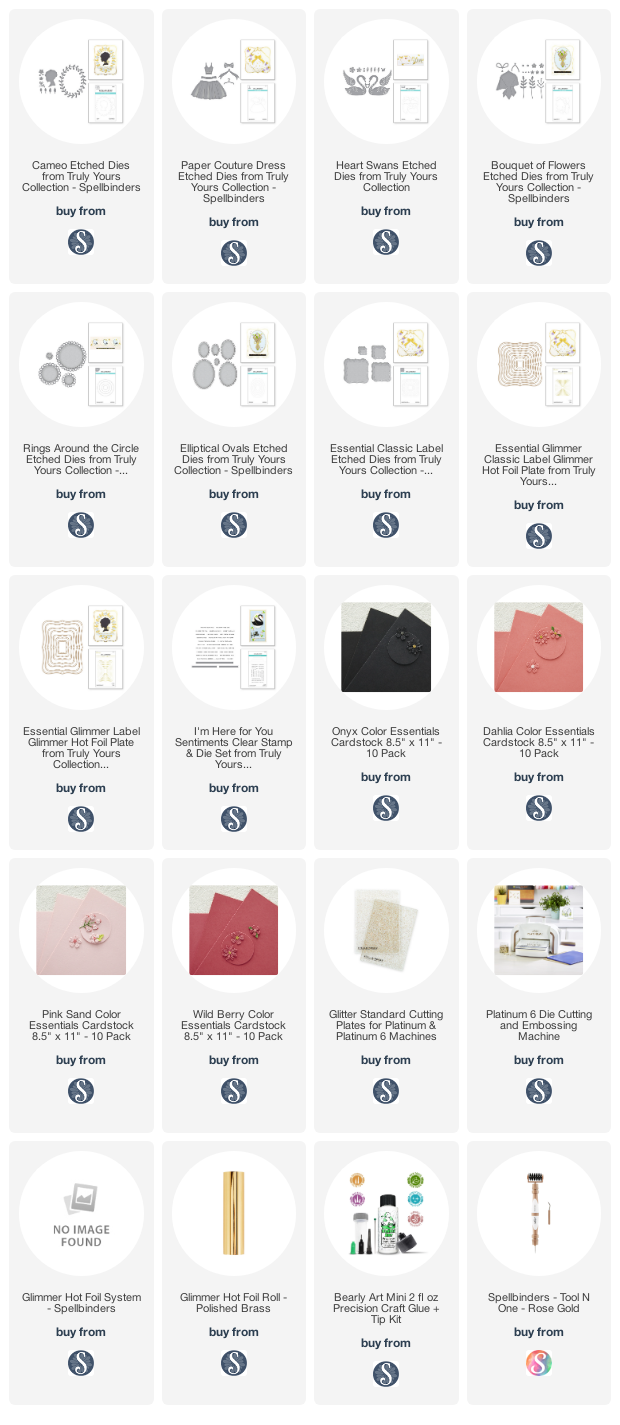 LAST DAY TODAY – for many of the CRAFTY SALES on this weekend – CHECK THEM OUT HERE
 – LOTS of great sales and New Releases going on this week – Check them out here