Hey card making friends welcome back.  I'm so excited to be part of the Spellbinders new Fall Release!  Spellbinders has released a large selection of new products and I have been working my way through these fabulous dies and glimmer plates and I have two more cards to share with you today.
We are back to Christmas cards and my first Spellbinders New Fall Release item today is the beautiful Snowflake Sparkle Background plate
I used the Glimmer Foil Speckled Prism for this card and foiled it onto another of those watercolor panels I created last month.  I love the soft blue behind those fabulous snowflakes.
Next, I foiled the sentiments onto a small piece of white and then die cut around it with the NEW Yana's Christmas Sentiments plates.  You will absolutely love this set, foil plates and outline die cut and lots of additional verbiage to personalize your cards.
Finally, clear jewels are the perfect embellishment for this card.  One is placed in the center of each snowflakes…..this card is Bling overload for sure.
Spellbinders New Fall Release Card #2
For the second card I used THREE new products.  Yana's Christmas Sentiments again, gold foiled on white and die cut out.
The poinsettias and leaves are from Christmas Organic Foliage, they each have a foil plate and a die to cut them out, AND the Christmas Essential Glimmer Squares provide the pretty border sentiment.
There are three dies in this set for you to foil, then die cut with the coordinating Essential Squares and Dies and layer onto your cards.  I decided on just one layer for this one, but I do have a layered one on the go, and I'll share that one real soon.
This is a 4-1/2″ finished card with the center images popped up with foam tape.
Embellishments for this one are the FSJ Fashion Gold embellishments – a perfect match to the gold foil
That's it for my shares today, I hope you will give Glimmer Foiling a try.   The machine is inexpensive and provides HOURS of entertainment, haha, just ask my husband, he has been quite amused at how much fun I'm having with this thing and EVERYONE is getting foiled cards this Christmas, just saying.
Be sure to check out the Spellbinders blog for more inspiration!
used for Spellbinders New Fall Release Cards:
Want to find the products I used?  I have them listed below.  Compensated affiliate links used at no cost to you.
Thank you for your support, it helps to cover my blogging and video expenses.
Simply click on the image for a larger image and to shop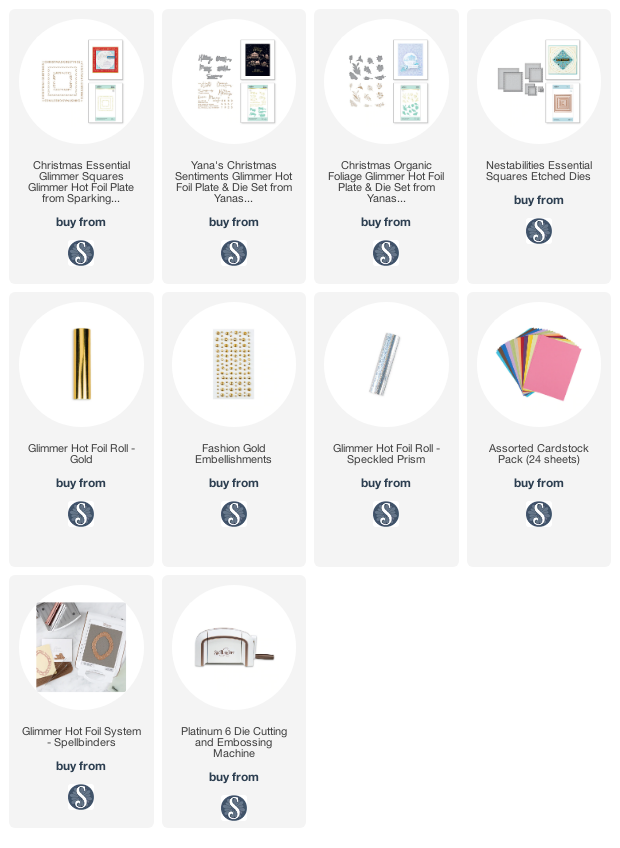 – LOTS of NEW RELEASES this week – Check them out here