Hey cardmaking friends.  I have two cards to share with you today created with the Picket Fence Studios Peach and Piper Stamp set which is totally adorable.
Today's post is also part of a Instagram Hop with Waffle Flower and a collaboration between the two companies.  PS, Waffle Flowers is giving away their entire release and Picket Fence Studios has two gift cards up for grabs, so read my Instagram Post on how to enter.
They sent us their new Stencil Mat, and Picket Fence Studios sent them Stencils.  So you will get a ton of inspiration around stencils in the hop today and some FABULOUS Cards.  You can start over on my Instagram page here.
Picket Fence Studios Peach and Piper Card #1
Distress Oxide Ink Colors for both cards are:  Seedless Preserves, Festive Berries, Worn Lipstick, Squeezed Lemonade and for the second card, Gathering Twigs.
Use the Misti stamping tool to stamp the images in black ink, color with copics and cut out.
Lay the card stock and the stencil onto the Waffle Flowers Stenciling Mat.
Blend the Distress Oxide Ink through the Slim Line Rainbows Stencil, leaving lots of white space.
TIP – before you clean everything up, stencil the envelope to match and give your mail person a thrill haha.
Next, place the card back into the Misti stamping tool and stamp the sentiment
Finally, stamp, color and cut out the bunnies and attach them with Foam Squares to pop them up a bit.
How to create the Picket Fence Studios Peach and Piper Card #2
As you can see I used all my PFS products on this card, haha.
Again, lay the card front onto the NEW Stencil Mat from Waffle Flower and cover it with the Broken Fence Stencil from Picket Fence Studios.
Use the Life Changing Brushes to stencil Distress Oxide Inks through the Broken Fence Stencil.
Die cut the Trees Silhouette Cover Plate from Kraft card, add some brown ink around the edges and attach it to the card front.
Die cut the Slimline Short Tail Grass Die, color with copic markers and attach to the bottom front of the card
Next, die cut the Mushroom Field Slimline, color it with Copics and add them to the bottom right corner of the card.
Finally, stamp, color and cut out Peach and Piper in gray and brown and add them to the bottom of the card.
Die cut the small maple Leaves dies 3 times, cut the leaves up, color them with markers, and add them randomly around the art piece.
Finally, add a few City Lights Sequins for a little bling.
Copic Markers Used:
Browns: E37, E35, E33, E31, E21
Grays:  T6, T5, T3, T2, T1
Pinks:  R32, R30
The New Waffle Flower Stencil Mat. 
It's similar to the Water Media Mat, but not.
It has raised edges on two sides, to wedge in your card stock and stencil.
Made of high quality silicone, the stencil mat is not as thick as the water media mat and is more pliable.
Comes in a great storage bag to keep it clean.
If you set your ink pads on top of the mat, they don't move around as much when you pick up color.
It's super easy to clean up too.  I was using distress oxide inks and they just washed right off with water.
at 9 x 12″ it's the perfect size for stenciling or other ink work.
The biggest benefit for me, is I usually stencil on a piece of grid paper and of course have to recycle it afterwards.  With this mat, I can just rinse it off and use it over and over again.
I played with it a few different ways.  I finally decided on the layout in the picture above.  I'm right handed, so I could use my left hand to gently hold the stencil down.  With it being wedged into the corner, it was very easy to stencil.  TIP – Post it Note tape does not stick to this mat, at least it didn't for me, but you really don't need to use it.
I have the mats link below in my list so you can click on them and get more details from the Waffle Flower Stamps website.
Visit my PDF Gallery for 350+ more card ideas
used for the Picket Fence Studios Peach and Piper cards:
Here are the products I used today.  Compensated affiliate links used  where available at no cost to you.
When you click on a thumbnail link and shop you are supporting my website allowing me to continue bringing you new projects and videos.  Thank you.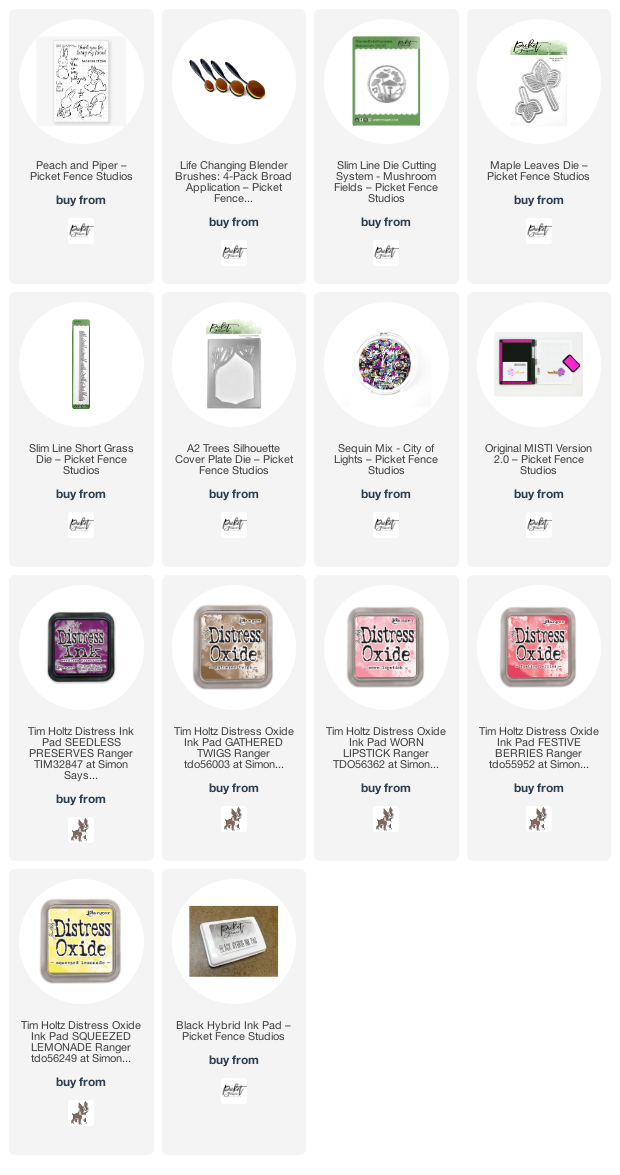 – there are AMAZING NEW RELEASES this week and Great Sales going on a Scrapbook.com and Spellbinders – Check them out here